László Fenyö was born in 1975 in Hungary. He comes from a musical family; his father being a violinist and conductor. At just 13 he was accepted at the Franz Liszt Music Academy, Budapest. Between 1994 and 1998, Fenyö studied in Lübeck under the instruction of David Geringas. Fenyö then took master courses with Miklós Perényi and Siegfried Palm, among others. At present, his mentor is Bernard Greenhouse, the doyen of chamber music. His unusually wide repertoire ranging from Bach to Krenek and Haydn to contemporary composers, his accurate sense of style, and his technical brilliance are responsible for his long record of success at various contests. László Fenyö plays a Matteo Goffriller cello from the year 1695.
Competition prizes and grants

1987: 1st Prize at the Hungarian National Cello Contest; then Fenyö achieved success in Paris, Budapest and Christchurch; he earned the Pierre Fournier Special Prize in Geneve, and in Kronberg he also managed to convince the illustrious jury, consisting of renowned members like Rostropowitsch, Natalja Gutman, Kurt Masur, and others.
2004: 1st Prize at the Pablo Casals World Contest, and in addition received a special prize for the best first performance of Graziane Finzi´s Variations, composed specifically for the contest.
2005: He received the highly prestigious Franz-Liszt-Prize as a state award.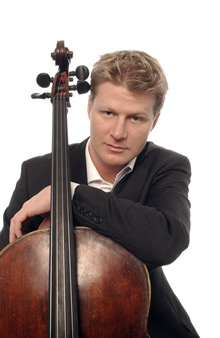 Orchestras

After having been the principal cello by the Radio Symphony Orchestra, Budapest, and the Philharmonia Hungarica, Fenyö is at present principal cellist of the Radio Symphony Orchestra, Frankfurt (Germany). He is regular guest on all important stages in Europe, the USA, and Asia.
Music festivals

Fenyö has taken part at major music festivals, such as the Pablo Casals Festival in Prades, where he played together with Leonidas Kavakos and Boris Berezowski.
Concert tours

Besides engagements in Hungary and Germany, László Fenyö is planning to play in Lisbon, in the USA, in Belgrad and in Singapore in 2006/2007. He will play concerts under the baton of K. Penderecki.
Radio and TV recordings

Most of his concerts, around twenty per year, are recorded or broadcast live by the Hungarian Radio. The 31-year-old musician has already played with all major Hungarian ensembles. Two of his new CD-recordings are coming out in 2007/2008, one at Aulos/Musikado on which he plays chamber music together with pianist Oleg Pollianski, and the other at hr.music.de with the cello concertos by J. Haydn (D Major) and D. Shostakovich (No. 1), where he is accompanied by the Frankfurt Radio Symphony Orchestra conducted by Grant Llewellyn.