Philippe Mesin was born in Heidelberg, Germany in 1978. At the age of 5 he took up the violin and piano. In 1988 he became a student of Prof. Ulrike Dierick's class at the Saarland Academy for Music and Theatre. In 1990 Mesin became a student at the Lubeck Academy for Musik (Prof. Zakhar Bron). From 1998 he studied at the Academy of Music in Saarbrücken (Prof. Dierick and Prof Maxim Vengerov). He passed his final exams with distinction in 2004 and since then takes part in the soloist class of Prof. Vengerov. Mesin plays a Joseph Gagliano violin made in 1776.
Competition prizes and grants

1994: 1st prize for the German competition "Jugend musiziert".
2000: 1st prize in the "Concours Luxembourgeois pour jeunes solistes".
2002/2003: Mesin was granted the "Richard Wagner Association Germany" scholarship.
Concerts

2001: Istambul.
2002:
• Recital with Itamar Golan during the Sommets Musicaux de Gstaad.

• Concert with the English Chamber Orchestra under the baton of Maxim Vengerov at the Barbican Centre, London, the Théatre de Châtelet, Paris and the Auditoro National, Madrid.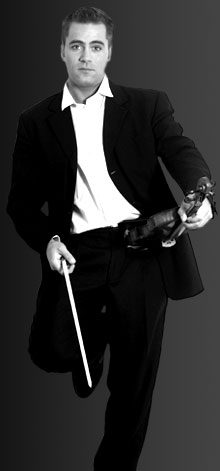 • Performed as soloist with the SaarLorLux Orchestra, conducted by Thomas Krämer in Saarbrücken and the Konzerthaus am Gendarmenmarkt in Berlin on occasion of the Young Euro Classic Festival.

• Concert at the National Conservatory Peking and the Embassy of the Federal Republic of Germany.

2003/2004: Performed in Tel Aviv.
2004/2005: Royal Academy of Music, London. A performance of Igor Strawinsky's violin concerto in Berlin. A concert in Concertgebouw Amsterdam. Also German tour with chamber orchestra.
2005: Soloist with the Heidelberg Philharmonic Orchestra conducted by Rudolf Barschai
2006: Open Air Concert with the "Deutsche Staatsphilharmonie Rheinlandpfalz"
conducted by Cornelius Meister
Music festivals
• Schleswig-Holstein Festival, Germany

• Musikfest Santander, Germany.

• Rheingauer Musiksommer,
Germany.
Radio and TV recordings

1998: Mesin performed with Maxim Vengerov for a classical documentation of NVC ARTS in London (broadcast worldwide by Channel Four, Arte and BBC.
2003: The German TV channel SWR made a documentary about him ("Musikdebüt").