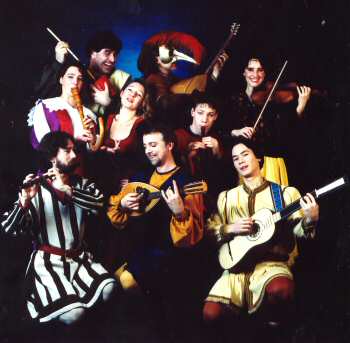 The members include:
| | | |
| --- | --- | --- |
| Luigi Maiello | | singer, percussion |
| Christina Maiello | | recorder, violin, viola, schalmei |
| Rudi Weinacker | | guitar, chitarra battente, bass guitar |
| Susanne Piro | | singer, putipu, crumhorn, recorder |
| Christoph Jaeckel | | violin, mandolin |
| Michael Angierski | | guitar, chitarra battente, lute, bass guitar, colascione |
| Georg Ramstetter | | singer |
| Stefan Gäbeln | | singer, bass guitar |
| Floriana Maddalena Maiello | | singer |
| Apollonio Maiello | | percussion |
The I Villani ensemble was formed in 1984 by the Italian singer and teacher Luigi Maiello, who was born in Naples in 1984 and now lives in Palatina, Germany. Under his leadership the young artist has brought new life to the early canzone, music composed in the 15th, 16th and 17th century in Venice, Florence and Naples.
The ensemble consists of 10 members, each of whom play a number of instruments and/or sing in the original language (Italian, Venetian and Neapolitan).
The central theme of the repertoire of the ensemble is the "Villanella". The programme is made complete by the use of moorish (moor- or jester songs), humorous ballet dances and sad madrigals, by wonderful tales in song with imitations of animal sounds or also pure instrumental pieces, such as tarantelle or sarabands.
The musicians appear in costumes of the Italian renaissance period, with animal masks or masks of the "Commedia dell' Arte".
I Villani began performing concerts in South Western Germany in 1985. Within a short period of time they were performing further afield throughout Germany. They now receive invitations to Italy, Belgium, Austria, Slovenia and Switzerland.
The ensemble has already performed in the most famous concert halls of Europe such as the Berlin Philhamonic Hall, the Old Opera in Frankfurt, and the Barock Theatre in Schwetzingen. The young musicians have been invited as guests to a number of venues such as: Ludwigsburger Schlossfestpiele, Rheinisches Musikfest des WDR, Musikalischer Sommer Baden Baden, Arolser Barockfestspiele in Meran, Internationale Tage Ingelheim, Schloss-festpiele Heidelberg, and Tage Alter Musik in Salzgitter.
Numerous TV- and radio recordings (e.g. SWF, ZDF, NDR, SFB,WDR, Radio Brandenburg) have been made documenting the work and artistic achievement of the ensemble.